HR DataBase
HR DataBase
Util Menu
The Human Resource Database for public service is a talent pool database for supporting to recruit many candidates of Presidential Appointee Position - key policymakers. Database pool is composed of many civil servants, business leaders, professors, and specialists.
Human Resources DB Division has been a force in advanced search for fifteen years and is the leading provider of talent acquisition and policy solution, We make talent strategies that innovate public servic ewith Human Resources Database Pool for Core-Talent.
Since talent pool database was launched, we have accomplished a huge database system for utilizing core talent in all public fields. Public clients have trusted us to help recruit top-class talent. Today, we have evolved into a unique source for leadership and talent consulting services going far beyond recruitment in public agencies.
Our search practice and method is different in ways that will make a big difference to all public client. We know where to find right person and to attract the very best talent.
An important part of our role is helping public clients rethink the very concept of 'ideal candidate'. We help public clients weigh not only the immediate challenges of role, but also their overall strategic objectives and the corresponding opportunities with our strategic recruitment method.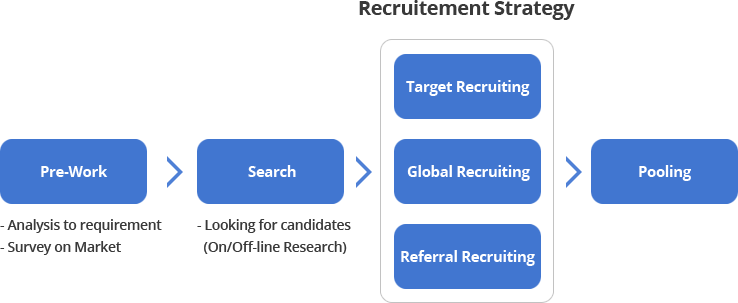 Pre-Work

Analysis to requirement
Survey on Market

Search

Looking for candidates(On/Off-line Research)

Target Recruiting, Global Recruiting, Referral Recruiting
Pooling