Human Resource Development
Human Resource Development
Util Menu
Our Ministry equips government employees with a clear sense of duty and commitment for public service, future-oriented capabilities and expertise. We provide new recruits with education on public service values, and basic training necessary to perform their tasks. In addition, leadership training is offered to those promoted to deputy director (grade 5), director (grades 3-4) and the Senior Civil Service (SCS). It is mandatory for officials of grade 4 or below to receive minimum 100 hours of training each year, and the training results are reflected in promotion. We also provide specialized education to enhance expertise in each field.
Our training portal (HRD Information Center: www.training.go.kr) provides information on the government's HRD policies and domestic and foreign education programs offered for civil servants. The site allows government employees to access information such as training program schedules and training materials and to upload training reports which should be submitted upon completion of training.
Career Development Path - Education system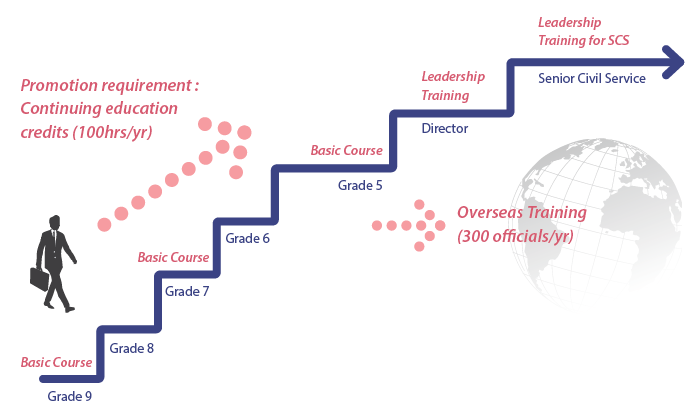 e-Learning
We have created an environment where government employees can receive various forms of education services tailored to the users anytime and anywhere, through smart education. We offer online and mobile courses on public administration, administrative and job skills development, as well as liberal arts and humanities subjects. Our smart education also supports an open online forum where learners can discuss and share information on topics of interest.