The Senior Civil Service
The Senior Civil Service
Util Menu
The government of the Republic of Korea introduced the Senior Civil Service (SCS) in 2006, to place high-ranking officials at the deputy minister or director-general levels in the right places at agencies across the government, beyond partitions between ministries, and to encourage openness and competition between the civil service and the private sector, as well as among the ministries.
History of the Senior Civil Service
Currently, about 1,500 senior civil servants are classified and managed as the Senior Civil Service. Some of these posts are open to the private sector to encourage excellent experts to work in the civil service. Also, through a job position system, the government is encouraging inter-ministerial competition among public officials in different ministries.
A person who wants to become a senior civil servant must first go through a strict leadership evaluation test. Through group discussion and role performance, an assessment is made as to whether a candidate has the credentials and abilities required of senior civil servants. In the next step, those candidates who pass the leadership evaluation are subject to personnel screening conducted by the Appointment Screening Committee of the Ministry of Personnel Management, and successful candidates who pass this screening are finally selected for the posts to be filled in the next appointment period.
Senior civil servants are paid a differential remuneration according to the grade of duty and performance evaluation results. Senior civil servants with poor performance evaluations are subject to qualification screening to determine whether they should continue to perform duties as senior civil servants.
REGULATIONS ON THE PERSONNEL MANAGEMENT OF THE SENIOR CIVIL SERVICE CORPS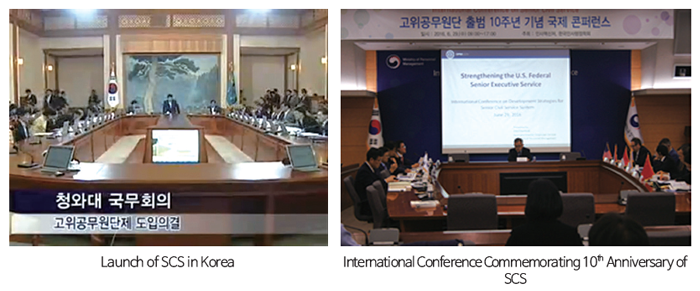 What is Competency Assessment?
Competency assessment was introduced along with the launch of the Senior Civil Service in 2006, with the aim of appointing only the right people to the right positions through a prior objective evaluation of the abilities and qualifications required of senior civil servants, who play a key role in setting and determining the main policies of the Korean government.
The assessment is conducted in a simulated situation that includes possible conflicts likely to occur in a real-life work situation. Multiple appraisers observe the behavior of the appraisees.
Six competencies for assessment (problem recognition ability, strategic thinking skills, change management skills, performance-orientedness, client satisfaction, and coordination and integration skills) are measured through four assessment exercises (1:1 role performance, 1:2 role performance, in-basket technique and group discussion), which allow appraisers to see whether the appraisees have the qualifications and abilities required of senior civil servants.
Assessment techniques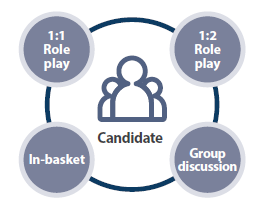 Examples of exercises
Examples of exercises
Type
Description
Time
1:1 Role Play
Conducts press interviews, staff coaching, action plan presentations
Preparation 30'
Role play 30'
1:2 Role Play
Resolves conflicts and disagreements in a constructive manner
Preparation 30'
Role play 30'
In-Basket
Finds solutions to various problems in a timely manner
Preparation 50'
Follow-up
Interview 30'
Group Discussion
Negotiates and coordinates interagency issues
Preparation 40'
Discussion 50'