About Recruitment by Referral
About Recruitment by Referral
Util Menu
Established with the goal of discovering new talent, Recruitment by Referral is an advanced personnel management system where citizens can participate directly by recommending candidates for public office.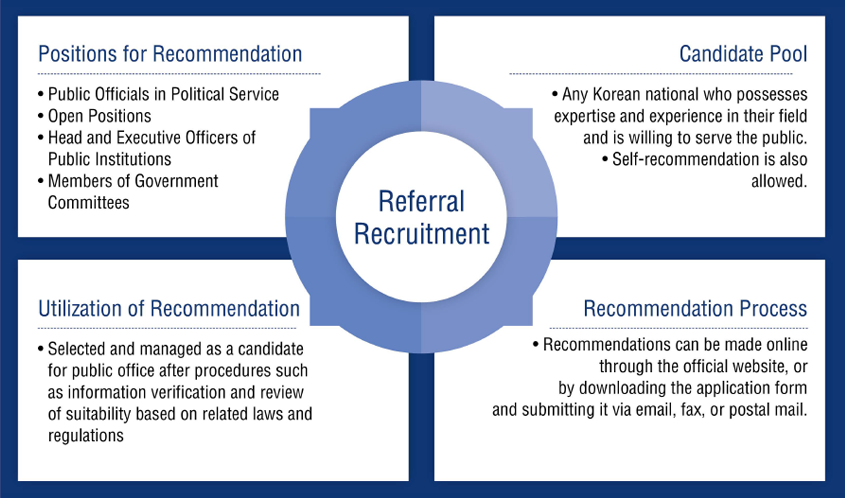 Positions
for
Recommendation

Public Officials in Political Service

Ministers, Vice Ministers, Commissioners, Chairpersons, etc. appointed by the President.
These positions require top-level expertise, political sensibilities, and leadership capabilities.

Open Positions

Positions at the director-level and above that require specialist candidates with specific qualifications. Candidates can be selected from both the public and private sectors.

Head and Executive Officers of Public Institutions

Heads, executive officers, auditors, etc. of public institutions that are subject to the Act on the Management of Public Institutions.

Members of Government Committees

Members of committees under the President, Prime Minister, and administrative agencies.
Employment
Status
(as of August, 2017)

Ministry of Food and Drug Safety Director General, Herbal Medicine Bureau
Director General, Food and Consumer Safety Bureau
Ministry of Employment and Labor Secretary General, South Jeolla Province Regional Labor Committee
Head, Uijeongbu District Employment and Labor Office
National Tax Service Head, ICL Repayment Unit
Defense Acquisition Program Administration Member, Information Strategy Planning Division
Public Procurement Service Head, Procurement Quality Management Office
Ministry of Trade, Industry and Energy Deputy Director General, Bureau of Trade Policy

Korea Customs Service Director General, Customers Border Control Training Institute
Ministry of Health and Welfare CEO, Gongju National Hospital CEO, National Center for Mental Health
Ministry of Land, Infrastructure and Transport Director, Urban Regeneration Policy Division
Ministry of Science, ICT and Future Planning Head, Daegu Mail Center
Korea Technology and Information Promotion Agency for SMEs Non-standing Audit Committee Member
Korea Intellectual Property Strategy Agency Non-standing Executive Committee Member