Fundamental Principles and Classification of Public Officials
Fundamental Principles and Classification of Public Officials
Util Menu
There are three fundamental principles that guide the public human resource management (HRM) of the Republic of Korea:
1.

"Democratic Civil Service System" that emphasizes responsibilities to serve the Korean people

2.

"Career Civil Service System" that recruits and hires talented young people who will devote their life to public service; and

3.

"Merit System" that employs individuals strictly according to their credentials and abilities regardless of partisanship or favoritism.
There are about one million* public servants in Korea, with about 690,000** in the central government and 390,000** in the local government (as of Dec. 2018).
Public servants are comprised of the following different categories:
General Service : public officials engaged in public administration, technology, and research
Special Service: public officials serving as judges, prosecutors, teachers, police and fire-fighting officers; and
Political Service: public officials who are elected officials or require the approval of the National Assembly to be appointed.
The General Service consists of public officials in Grades 3-9 and senior officials belonging to the Senior Civil Service (SCS). The Special and Political Service each have their own grade systems.
Types of Public Officials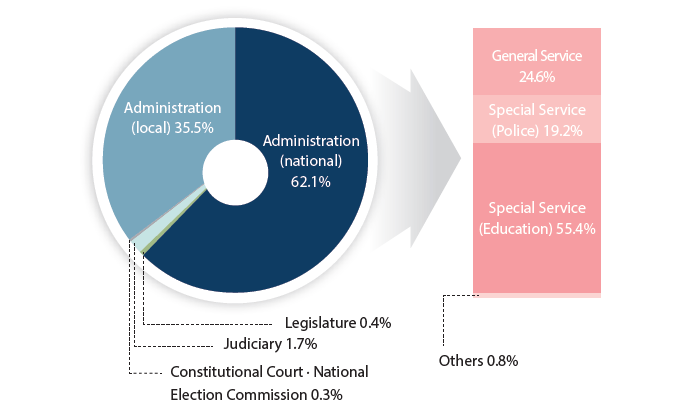 Public Officials in General Service