We recruit new outstanding officials following fair procedures.
In principle, public officials are recruited through open competitive examinations. The open competitive recruitment exam is aimed at securing a wide variety of talented people with potential by ensuring equal opportunities for every citizen to apply for a government job, regardless of age, gender, education or work experience. Recruitment exams for grades 5, 7 and 9 are administered every year respectively through written tests (once or twice) and interviews.
Experienced professionals are also recruited to fill positions that require a high level of expertise. This system recruits people with career, credentials and academic degrees in a specific field and is implemented regularly or when necessary for all grades including SCS.
A variety of affirmative action policies are implemented when recruiting to ensure a diverse government workforce. To have the gender balance, the number of applicants of a particular gender who pass the exam is set to be over 30% for each recruitment exam, and a quota system exists for the disabled and people from a low-income group.
<graph> Annual recruitment scale of public officials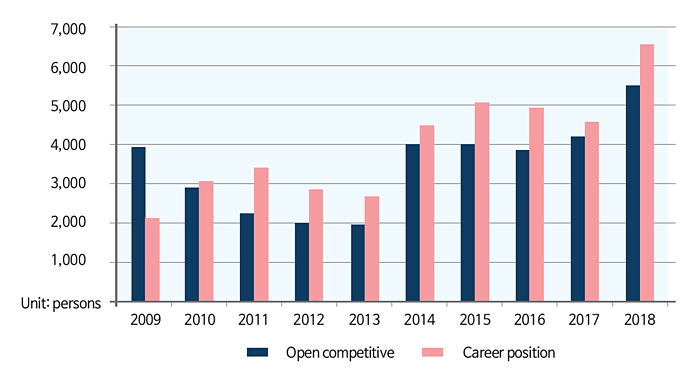 <graph>The proportion of women in public service